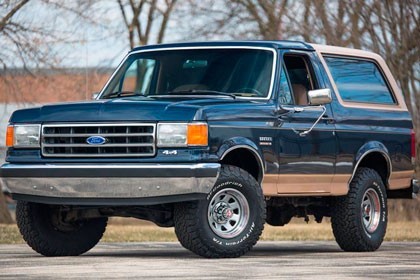 Doesn't it always seem like by the time you've gotten wind of a cool collector car, the secret's out and prices have already escalated out of your price range? Fear not, because Hagerty is here to clue you in on their latest list of cars that, maybe, people haven't caught on to yet. Two strong indicators that a car is heating up: How many are being added to Hagerty insurance policies and insurance quote activity. Hagerty has picked five such cars that have solid potential for upward mobility, and whose prices have been steady and might be due for an uptick soon.
1993-1996 Cadillac Fleetwood
Median #3 (Good) condition value: $2900
Cadillac switched the Fleetwood back to rear-wheel drive in 1993, a move which—along with its immense 225-inch length—helped cement the car's reputation as an anachronism of Cadillac's golden years. Nowadays, however, people are starting to especially appreciate the 1994–96 cars' 350-cubicinch, 260-horsepower iron-head version of the Corvette's LT1 V-8. These cars are already about as cheap as they're going to get and the Fleetwood might be on the verge of having a moment.


1987-1991 Ford Bronco
Median #3 (Good) condition value: $8600
Broncos are all the rage right now, and enthusiasm is already building for the new, still-boxy version that Ford has been teasing. But as more and more people get priced out of earlier and more valuable Broncos, these once-discarded examples from 1987–91 stand a good chance of filling a market demand.


1993-1995 Ford SVT Lightning pickup
Median #3 (Good) condition value: $9000
When it comes to early modern performance trucks, the GMC Syclone and its Typhoon SUV twin are the first things that come to mind. But those two have already had their time in the sun, and there is another option in the SVT Lightning, which is likely due for an upward market correction. While we've seen a few nice examples command higher-than-expected prices, what we're really waiting on is for a super-clean, showroom-fresh example to come to auction and light the fuse on the market.


000-2006 Jaguar XKR
Median #3 (Good) condition value: $15,450
Developed during Jaguar's time under Ford ownership, this sleek-looking sports car has aged remarkably well since the high-performance R version of the XK8 launched nearly two decades ago. Its 370-hp supercharged 4.0-liter V-8 and its later 4.2-liter 400-hp V-8 provide plenty of grunt, and both engines sound flipping fantastic at full tilt. Prices appear to have just about bottomed out; it's a heck of a lot of car for the money. Pretty soon people might come around to this forgotten Brit.


2003-2006 Chevrolet SSR
Median #3 (Good) condition value: $21,000
Amidst the retro craze, the funky-looking Chevrolet SSR convertible pickup was one of the few with any real performance street-cred. That LS2 Corvette V-8 in the 2005–06 models is no joke, and you could even get it with a six-speed stick. More and more have been coming to auction in the past year, which is usually a decent indicator that more collectors are starting to pay attention. Love it or hate it, there isn't really anything else on the road like the SSR, and uniqueness always counts for something.
Whether you have one of these classics already or get one down the road the right insurance is a must! Call Georgetown Insurance Agency today for your Massachusetts classic car insurance quote at 1-978-352-8000.